Contents:
Unfortunately, effective modeling of information technologies by teacher educators in universities is not common. In contrast, those teacher preparation programs embedding hands-on technology models in methods courses and student teaching requirements are more likely to produce teachers who use technology in their own practice Vannatta, Thomas and Cooper argued that college of education faculty should increase their use of technology, provide their students with opportunities to use technology, and model the use of technology in instruction.
Echoing these findings, Bolick et al. Although teacher educators are using technology with their university students, they are not preparing preservice teachers to integrate technology into instruction with K students. Nor are teacher educators preparing preservice teachers to facilitate the use of technology by their K students Bolick et al.
Similarly, Whitworth and Berson found that Internet use and accessing information on the Web was the most common use of technology in the social studies. They expressed a concern that technology was being used as a more sophisticated and expensive way to meet the same learning outcomes that could also be achieved through more traditional methods. Recent surveys suggest technology integration is limited. In a recent effort to describe how technologies might be integrated into social studies teaching and learning, Mason, et al. These criteria also provided guidance to preservice teachers for integrating technology into instruction with K students.
According to Mason et al. The fourth criterion in these guidelines directly relates to the expectations for the skills and knowledge of citizens. They further suggested that citizens should understand public and community issues, be able to obtain information, think critically, and be willing to enter into dialogue with others and understand diverse perspectives. The Civic Mission of Schools also suggested that citizens act politically by organizing to address social issues, solve problems in groups, speak in public, petition, protest, and vote.
In support of the Mason et al. Being an engaged and effective citizen today requires reading, writing, and mathematical skills; the ability to understand complex issues which sometimes have scientific or economic dimensions ; knowledge of computers and the Internet [italics added]; and the ability to talk with people from different backgrounds. One of the most far reaching and influential projects to distinguish how teachers and students should utilize technology in support of the aims of education can be found in the ISTE National Technology Standards.
ISTE developed these technology standards for teachers and students in such a way as to inform expectations for citizenship skills in a digital age.
Learning in the digital age | Deloitte Insights
Teachers demonstrate a sound understanding of technology operations and concepts. Teachers plan and design effective learning environments and experiences supported by technology. Teachers implement curriculum plans that include methods and strategies for applying technology to maximize student learning. Teachers apply technology to facilitate a variety of effective assessment and evaluation strategies.
Teachers use technology to enhance their productivity and professional practice. Teachers understand the social, ethical, legal, and human issues surrounding the use of technology in PK schools and apply that understanding in practice. These standards were not included in this study. In , ISTE convened panels of educators and technology specialists to review the technology standards for students.
Much of the discussion focused on moving beyond technology operations and concepts. The standards identify six core components:. The Partnership for 21st Century Skills b has also developed student outcomes representing the skills, knowledge, and expertise students should master for success in 21st-century work and life. In addition to core academic subjects, the Framework for 21st Century Learning suggested interdisciplinary themes that are especially relevant for citizenship skills. The Framework for 21st Century Learning also incorporated technology into Learning and Innovation Skills, which focus on creativity, critical thinking, communication, and collaboration.
These skills are also important for citizenship. The Framework emphasizes information literacy, media literacy, and information, communications, and technology ICT literacy. Specifically, information literacy requires the ability to efficiently access and critically evaluate information and creatively use it to solve problems. Media literacy focuses on the construction and interpretation of media messages and how media influences beliefs and behaviors. ICT literacy focuses on using digital technology, communication tools, and networks to access, manage, integrate, evaluate, and create information.
This research study focused on technology as a tool for learning and developing 21st-century citizenship skills by preservice teachers with their K students. The research reported here is part of a larger study of the use of technologies to develop 21st-century citizenship skills. The data presented here represent a slice of a larger set of data, and the goal of these initial findings is to create a foundation for future work and research.
The preservice teachers in this longitudinal 5-year study were students in a four-quarter graduate teacher education program at a major university in the Pacific Northwest. The program used a cohort model, and the teachers in this study participated in three elementary preK-6 and five secondary cohorts between June and June Cohorts ranged in size from 22 to 31, with an average of Data from 88 elementary and secondary teachers were included in this study. Secondary cohorts included preservice teachers seeking endorsements in a variety of subjects, including language arts 49 , social studies 29 , foreign languages 19 , music 11 , art 8 , health 4 , business education 4 , science 4 , drama 3 , and mathematics 2.
These preservice teachers completed a required two-term instruction and technology course, taught by the primary researcher in this study. Preservice teachers learned to use a variety of technologies as they participated in the Intel Teach to the Future curriculum Candau et al. Findings from the research literature about the importance of weaving technology into instructional methods informed the instruction in these courses. Preservice teachers in both elementary and secondary cohorts were expected to learn to use all of the technologies; however, instructional application of these technologies differed depending on the grade level of the K students.
The model suggests that learning is an active process, and learning is more effective when students are engaged in constructing personally meaningful products. Preservice teachers in this study were required to develop technology-enriched lessons within a curriculum unit that incorporated a variety of technologies appropriate to the grade level s and subject s they subsequently taught in student teaching. The second instructional technology course was taught during a half-time student teaching experience for participants, in which the preservice teachers were expected to teach 20 hours per week under the supervision of a cooperating teacher while attending university courses.
Preservice teachers were encouraged but not required to implement technology enriched lessons in both their half-time student teaching Student Teaching I and subsequent full-time student teaching Student Teaching II field experiences. During both field experiences, preservice teachers completed a work sample that included the classroom context, unit rationale, detailed lesson plans, sample instructional materials, and pre and post K student assessment data.
Student Teaching I work samples represented a unit of study lasting 2 to 3 weeks, while Student Teaching II work samples represented a 4- to 5-week unit of study. The work samples did not include every lesson taught during the student teaching experience—only the lesson plans for a specific unit of study to meet licensure program requirements. The data included a work samples collected at the end of half-time Student Teaching I and full-time Student Teaching II from preservice teachers and b final reflections from preservice teachers at the end of the licensure program. During the first 2 years of the study, , obtaining all of the work samples from Student Teaching II was difficult, since the preservice teachers were using their work samples in an action research course that immediately followed full-time student teaching.
Reflections were not collected from the preservice teachers in the cohorts.
Models for Interdisciplinary Mobile Learning: Delivering Information to Students
Table 1 lists the study participants and data sources. Between and , 86 Student Teaching I work samples and 54 Student Teaching II work samples were collected for a total of work samples from 88 elementary preservice teachers. Between and , Student Teaching I work samples and 93 Student Teaching II work samples were collected for a total of work samples from secondary preservice teachers.
SIOP Model for Teaching English Learners - Lesson Delivery
The secondary work samples for which subject area was recorded during data collection included units in language arts 69 , social studies 42 , foreign languages 25 , music 10 , art 7 , science 7 , drama 6 , business education 5 , mathematics 3 , and health 3. Each type of technology was recorded once for an individual preservice teacher, whether the technology was used one or more times by the preservice teacher or by K students. For example, a work sample indicating that the preservice teacher developed a PowerPoint presentation was coded as one type of technology use, even if the preservice teacher developed several such multimedia presentations.
Similarly, if K students used word processing software, it was coded as one type of technology, even if the students used that technology for multiple assignments within a work sample.
Consequently, this research reports the percentage of preservice teachers or K students who used any given technology at least once. In addition, the reflections were read according to whether or not the technology was used for instructional purposes by the preservice teachers or by their K students. Preservice teacher reflections were examined for examples of technology use throughout their student teaching field experience, not just during the instruction of the work sample. Because the National Educational Technology Standards do not list the technologies that may be used to meet each standard, the process of identifying technologies according to the ISTE standards is a judgment call.
This process involved reexamining the copies of the technology lessons and notes from initial analysis of the work samples to determine the intended purpose of each technology use in each work sample. The resulting categories represent the best fit of the technologies in these work samples to the ISTE standards. I reread the copies of the technology lessons and notes from initial analysis of the work samples to determine the intended purpose of each technology use by K students in each work sample.
These were the two questions driving this research. To accomplish this analysis, I reexamined the data from the initial work sample analysis and assigned technology uses in each work sample to the relevant NETS-T, depending on the purpose of the technology use. Preservice teachers tended to use digital still and video cameras to document student learning and spreadsheets to communicate student assessment data NETS-T IV , while they used presentation PowerPoint and desktop publishing to enhance their productivity and professional practice NETS-T V.
A variety of other technologies were also evident, but in smaller percentages of the work samples.
Careers and learning: Real time, all the time
Word processing and accessing the Web were the most frequently used technologies in the 42 social studies work samples, as well as the other subject area work samples in this study. In addition to analyzing the data for its fit with NETS-T categories, the data were also considered in several comparative contexts.
Secondary preservice teachers were three times more likely to use presentation software and twice as likely to use LCD projectors in the classroom than were elementary preservice teachers. Four technologies used by secondary preservice teachers creating CDs, webpages, emails, and blogs were not used at all by elementary preservice teachers. In contrast, elementary preservice teachers used digital cameras to document student performance three and a half times more frequently than did secondary teachers, and they used webquests with their students four times more often than did secondary teachers.
Although less frequently than their secondary school colleagues, elementary preservice teachers in this study used word processing, Internet search tools, graphic organizers, and webquests to maximize student learning. Each of the reflections was analyzed for the types of technology that preservice teachers reported using with their K students.
Preservice teachers reported integrating 18 different technologies into instruction. These data are summarized in Table 6. Comparing reported technology use to the NETS-T suggested that preservice teachers used technology to support their lessons II , maximize student learning III , facilitate assessment IV , and enhance productivity and professional practice V. For example, reflections documented technology-supported lessons Standard II in which preservice teachers used an LCD projector to show multimedia presentations, streaming video, websites, documentaries, and news clips.
A smaller number of preservice teachers created class webpages and blogs, recorded student work with digital cameras, and communicated by email with students and parents. This finding confirmed previous research that preservice teachers tend to use the technologies they were taught Mason et al. Though reluctant and hesitant to use new technology when I started this program, I have learned to love and appreciate its many uses and the opportunities it provides me as an educator.
Becoming more familiar with it and capable of using it was one of the most significant changes in my professional development. Using and mastering technology helped me become a better teacher. I learned and was able to communicate with other teachers and research new instructional strategies via email and internet.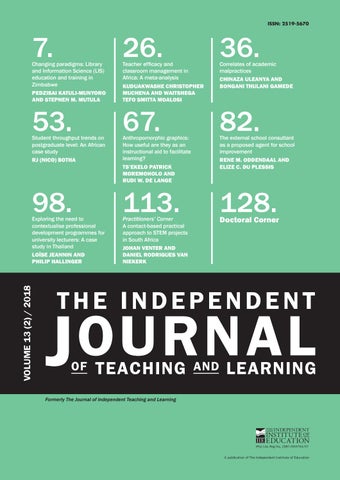 The new tools that I have learned this year helped me become much more organized, much more efficient with my time, and much more capable of creating a wider variety of activities and lessons for my students. Another preservice teacher illustrated the challenge of using technology appropriately in every situation. I am a beginning teacher. Because of my coursework … and my student teaching placement, I have a huge toolbox chockfull with ways to create an engaging, student-centered, accessible learning environment for the diverse students with whom I will work in the coming years.
Preservice teachers were sensitive to the digital divide and did not feel they could assign completion of technology projects for homework when technology was lacking in the classroom and at home.
Related Books